Industrial Pump Systems for Industrial Processing Operations throughout the Americas
When it co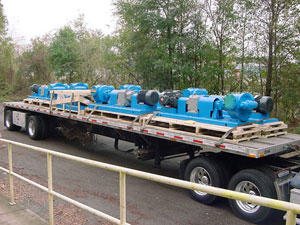 mes to highly engineered solutions, the industrial pump systems from Arroyo Process Equipment, Inc. are second to none. Arroyo is a Hispanic- and woman-owned company and since 1968, we have helped many different industrial operations across the globe – including citrus, phosphate, mining, and distilling – find solutions to their most difficult processing needs.
Our staff of in-house mechanical and chemical engineers will use your specifications to design one or more industrial pump package systems that meet your application and usage requirements, and we carefully match all of the pumps, motors, gear boxes, and other components you may need to ensure proper operation.
Industrial Pump Systems From Arroyo Process Equipment
Arroyo carries a wide variety of pump types, including centrifugal impeller, rotary gear, and air diaphragm, as well as many different kinds of motors, allowing us to manufacture packages that are highly specific to the volume and viscosity of whatever fluid you need to move. We can create any configuration ranging from single pump to highly complex, multi-pump systems, and we can customize the controls, starter panels, valves, and couplings. Additionally, our industrial pump systems can be skid-mounted, providing you with an easily transportable, turnkey solution for your unique processing needs.
In addition to commercial pump packages, Arroyo also offers an extensive variety of processing equipment, including mixing equipment, pump strainers, industrial electric motors, and many other products. We also provide around-the-clock repair and maintenance services for virtually all brands of equipment in Miami, Jacksonville, Orlando, Tampa, Tallahassee, and other Florida metro areas. And when it comes to industrial pump installation, we ensure that the job is completed as quickly and efficiently as possible.
To learn more about our superior support, experience, and engineering, contact Arroyo today.