Burks Pumps Available for Processing Operations in the US, Central America, South America & Beyond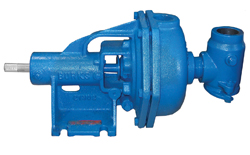 Burks pumps, part of the Crane Pumps & Systems line, are an extraordinarily versatile line of centrifugal pumps and can provide effective fluid handling solutions across a wide range of industries. At Arroyo Process Equipment, you can find an outstanding selection of Burks pumps and other products for your processing operation, and rely on our experienced professionals to help you find the right type of pump for your specific application.
Since 1968, we've provided companies in the United States, South America, and Central America with excellent products and outstanding customer support with a goal of making their operations as efficient as possible. Our staff is highly knowledgeable of all the high-quality pump products from Burks, and we'll be glad to help identify and explain which Burks pump would be ideal for your operation.
We offer the following pump options from Burks:
End suction pumps
Regenerative turbine pumps
And more
Burks Pumps From Arroyo Process Equipment
In addition to Burks pumps, we offer other lines of pumps from Crane Pumps & Systems, which includes:
Crown pumps
Burks pumps
Prosser pumps
Weinman pumps
To purchase Burks pumps or any pumps from the Crane family, contact us today. We also offer mixers from Sharpe and MixMore, gear boxes from Sumitomo, and many other products from highly reputable manufacturers. Arroyo is a woman- and Hispanic-owned business that proudly serves industrial processing operations in South America, Central America, and the United States.