MTH Pumps for Florida, Georgia, Puerto Rico, the Dominican Republic & the Caribbean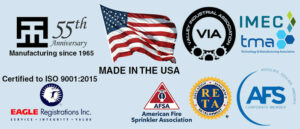 Arroyo Process Equipment is the leading fluid handling supplier with the best selection of high quality industrial pumps. For 50 years, we have established relationships with the most respected manufacturers in the industry. These relationships have allowed us to stock the pump lines at our family owned and operated business with the highest quality equipment. Our Centrifugal Pump Line features hundreds of exceptional pump models from over 20 top manufacturers including MTH pumps, Toyo Pumps, Grundfos, Burks Pumps and Phantom Pumps. Viking Pump, Wright Flow Technologies, Warren Rupp, Liquiflo, Cat Pumps, Corken and Hayward pumps are found in our Positive Displacement Pump Line.
MTH Pumps From Arroyo Process Equipment
MTH Pumps manufactures centrifugal pumps and regenerative turbine pumps. Regenerative turbine MTH pumps are distributed by Arroyo Process Equipment, and the regenerative turbine pumps in our line are ideal for high pressure, low flow applications and include the following and more:
Closed coupled models
Flexible coupled models
Vertical flange mounted models
140, 180, 240 and 280 Series flexible coupled pumps
Sealless canned models
C41, C51 and C61 Series MTH centrifugal pumps include end suction top discharge pump models featuring stainless steel construction with discharge heads up to 140 feet and 10-100 GPM. MTH Pumps D51, D61, D71 and D91 Series MTH centrifugal pumps include heads up to 360 feet with options such as cooling jackets, vertical flange mounts and self-priming designs available on some models.
Hayward Gordon is one of our manufacturers with equipment featured in our Centrifugal Pump Line, Positive Displacement Pump Line and Mixing Line. Hayward vertical cantilever pumps, peristaltic pumps, recessed impeller pumps, jacketed molten pumps and other Hayward pumps in our lines fill countless industrial applications in Florida, Georgia, Puerto Rico, the Dominican Republic and elsewhere throughout the Caribbean islands. Our Hayward Gordon Mixing Equipment includes Hayward, Sharp Mixers and Scott Turbon portable and inline mixers. Contact a friendly and courteous Arroyo Process Equipment associate today to learn more about any of our exceptional MTH or Hayward pumps.