Weinman Pumps Available for Processing Operations throughout the US & Beyond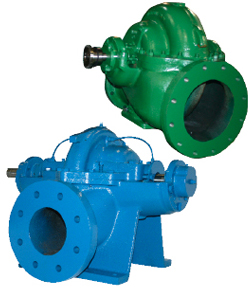 If you have a wastewater or water treatment facility, Weinman pumps could be the most ideal pumps for your operation. Pump options from Weinman are widely recognized as some of the most reliable, high-quality pumps on the market, and can be used in a wide variety of water service applications. If you have a company in the US, South America, Central America, or anywhere else in the world and want to acquire a Weinman pump, then turn to the professionals at Arroyo Process Equipment. We have provided quality industrial pumps and other equipment to processing operations around the globe since 1968, and we have an excellent selection of Weinman pumps, as well as many other options from the Crane Pumps & Systems family.
Weinman Pumps From Arroyo Process Equipment
Among the Weinman pump options we offer are:
Frame-mounted and close-coupled end suction pumps
Vertical and horizontal split case pumps
And more
At Arroyo, we've built a solid reputation through our ability to help businesses find the best products for their specific applications. Our goal is not only to help you identify the products you need to keep your operation running efficiently but to provide them at the lowest possible cost, so that you experience the most cost-effective solutions possible.
Contact us today if you would like more information on our available Weinman pumps, or any other pumps in the Crane family, including Prosser pumps, Crown pumps, and Barnes pumps. Arroyo distributes products to businesses in the United States, Central America, and South America.