Sharpe Mixer Options for Processing Operations in the US, South America, Central America, and Beyond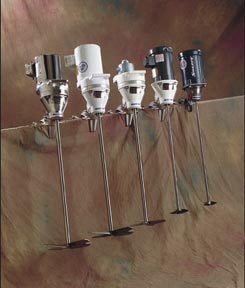 If you're looking for an efficient and durable industrial mixer, Sharpe Mixers offers some of the best on the market. At Arroyo Process Equipment, we distribute a wide variety of Sharpe mixing equipment to companies throughout the United States, Central America, and South America, making our company the ideal place to turn to when you need innovative, dependable mixers for your facility.
A Sharpe industrial mixer can be an ideal choice for a variety of industries, including water and wastewater treatment, chemical, and pharmaceutical. With top, side-entry, and portable mixers, Sharpe offers solutions for several different applications.
Sharpe Mixer From Arroyo Process Equipment
We offer a vast array of Sharpe mixer options, including:
Portable and F-Series – Choose from heavy-duty direct drive, heavy-duty gear drive, clamp mount, flange mount, and plate mount models
E-Series – Available in top and side-entry designs, these high-performance mixers feature high pressure angle gearing and a hollow quill gearbox design
N-Series – Feature a corrosion-resistant cast iron housing and in-line helical gear sets that are available in double and triple reduction
V-Series – Considered a top choice for a variety of different applications, these mixers are highly dependable and easily repaired
In addition to mixers from Sharpe, we also distribute a wide selection of processing equipment, including Viking Pump, Toyo pump, Crane, and Warren Rupp pump products.
If you would like to order Sharpe mixer products for your facility in the US, Central America, South America, and beyond, contact us today. Arroyo, a proud woman- and Hispanic-owned business, has distributed excellent equipment to processing operations worldwide since 1968.