Side Entry Mixer Products for Phosphate, Sugar & Other Processing Operations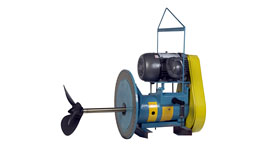 When you need a side entry mixer engineered specifically to handle your unique processing needs, you can turn to the experts at Arroyo Processing Equipment, Inc. We are a Hispanic- and woman-owned company and since 1968, we've been known for our superior support, experience, and engineering in a variety of processing industries across the globe.
Along with our selection of side entry mixer products, Arroyo also offers a full range of other processing equipment, including air operated diaphragm pump products, industrial submersible pumps, top entry mixers, gear boxes, motors, drives, and much more. Whether you require an industrial mixer for your citrus processing plant or an entire package system that fits seamlessly with your existing network of equipment, Arroyo can help. We have a team of mechanical and chemical engineers on hand that can conduct site visits if necessary, analyze your current processes, and suggest the equipment and configurations that will best solve your most challenging processing issues.
Side Entry Mixer From Arroyo Process Equipment
Additionally, we proudly offer 24-hour-a-day equipment service for operations located in Miami, Jacksonville, Orlando, Tampa, Tallahassee, and other Florida metro areas. Our factory-trained and certified technicians can service virtually all brands of processing equipment and help you get your operation back up and running as quickly as possible, particularly because any amount of system downtime can be devastating to your bottom line.
For all of your side entry mixer and other processing equipment needs, turn to the experts at Arroyo. We are proud to serve businesses throughout the United States, Central America, and South America. Contact us today for more information.