Vane Pumps in the United States, Central America & South America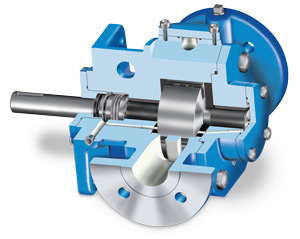 Looking for vane pumps? At Arroyo Process Equipment, we have a wide array of vane pumps for you to choose from including Viking Pumps to ensure you always have your needs met. There are going to be times when you need to pump fluids — and our pumps are of the highest quality you can find in the marketplace.
The purpose of vane pumps is for liquid transfer applications, from chemicals to liquid gases. The rotor has vanes extending from the slots in order to sweep the liquid from a cam-shaped cavity. The role of the vane is to produce low slip and high volume productivity.
Vane Pumps From Arroyo Process Equipment
The vane pumps are ideal for thin and corrosive liquids at a high pressure. When you are unsure about whether a vane pump is right for your applications or not, we have highly trained engineers on staff who are always around for the sole purpose of answering any questions you may have.
When you need a pump, you will need to consider the benefits to one with a vane:
High volume
Low slip
Ideal for corrosive liquids
Broad chemical compatibility
Self-priming
It's important that you always have the industrial pumps you need for your operation. Whether you are looking for vane pumps, centrifugal pumps, submersible pumps or other products, rely on us for the quality you count on. Contact us for more information regarding our vane pumps or to request a quote for your order today.