Warren Rupp & Sandpiper Pumps From Arroyo Process Equipment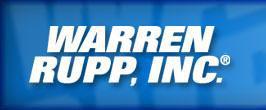 Warren Rupp Pumps are among the highest quality pumps available on the market today. Their Sandpiper Pumps come in a broad range of size, type, and model to meet specifications in a number of industries, particularly those dealing with abrasive and viscous material:
construction
industrial maintenance
utilities
process industries from chemicals and paints to foods
wastewater, sludge processing, and mining
Warren Rupp Pumps From Arroyo Process Equipment
Arroyo Process Equipment, Inc. is proud to be a distributor of Sandpiper Pumps for Warren Rupp. Their diaphragm pumps meet our meticulous standards for pollution free operation with energy efficiency and are useable in applications where electricity is not available or hazardous. They are self-priming, made in a variety of materials for different applications, and guaranteed to provide non-stalling performance.
Our expert technicians can help you determine the best pump for your enterprise. The Arroyo name has been associated with trusted expertise in the process equipment field since 1968 and we are able to provide you with the parts, systems, installation, and service you need to succeed. Contact us for a consultation and see what we can do for you.