C3196 Pump for Florida, Georgia, Caribbean & Nearby Areas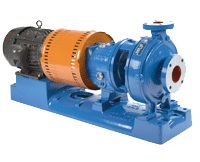 ANSI process pumps are centrifugal end suction pumps that meet ANSI B73 standards. All ANSI pumps, such as a Gould C3196 pump or Deming 3000 Series pump, have the same envelope dimensions and interface as other pumps that are of comparable size. Arroyo Process Equipment is a women-owned and operated business that stocks a complete line of centrifugal pumps available to fluid professing professional including ANSI pumps, split case pumps, multi-stage pumps and more. Our Positive Displacement Pump Line is where you'll find everything from an FDA pump, sanitary lobe pump and high pressure piston pump to an air operated diaphragm pump, trash pump and other processing pumps for world renowned pump manufacturers.
At Arroyo Process Equipment, we proudly offer our customers the Phantom Pumps Line. This line of products is ideal for processors who need to cut C3196 pump related operating costs. Phantom Pumps centrifugal ANSI pumps are cost-effective replacements for C3196 pump equipment because they are compatible and interchangeable with many pump models from Gorman-Rupp, All Prime, ESCO and other pump manufacturers.
Processors will never need to worry about sacrificing on quality or performance when they replace a worn-out or broken C3196 pump with a compatible pump from the ANSI Pump Line available at Arroyo Process Equipment because:
All pumps are self-priming
All models include a one-year warranty
Models include low pressure and high pressure pumps
Phantom ANSI pump manufacturing meets or exceeds industry standards
Pump assembly, testing and packaging is always completed in the United States for quality assurance
The Florida parts departments at Arroyo Process Equipment have thousands of parts in stock or available by special order for all of the pumps, mixers, gear pumps, motors and other processing equipment that we distribute. A simple call from your in-house service personnel to one of our parts specialists for assistance is all it takes to find the correct part for a C3196 pump or other processing equipment from higher priced pump manufacturers that is needed at your processing facilities in Florida, Georgia, Caribbean and nearby areas. We can quickly cross-reference pump parts to Phantom Pumps parts to save you additional money on repair and maintenance related costs. Contact us today for C3196 pumps or more information on compatible pumps and parts.