Hayward Pumps for Florida, Georgia, Haiti, Jamaica, Puerto Rico & Neighboring Territories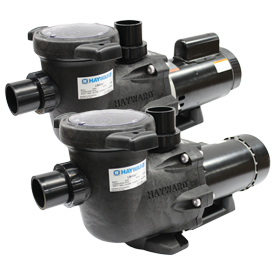 As a distributor of Hayward Flow Control products, Arroyo Process Equipment is the fluid handling supplier with the full-line of Hayward pumps, controls, strainers, filters and more that are used daily around the world for industrial fluid processing operations such as chemical processing, mining, oil and gas, pulp and paper processing, aquatics, and more. Since 1968, Arroyo Process Equipment has been the family owned and operated company that thousands of processors have relied on for the highest quality equipment and unmatched customer service and support.
Hayword Pumps in Florida From Arroyo Process Equipment
Hayward pumps in our Fluid Handling Line at Arroyo Process Equipment include horizontal pump equipment such as the following and more:
LifeStar VS Variable Speed pumps
A-Series LifeStar Aquatic and MV Aquatic pump models
C-Series centrifugal pumps
R Series magnetic drive pumps
LiveStar VS Variable Speed models are energy-efficient, self-priming pumps that feature digital controlled multi-position interfaces and provide reduced energy consumption along with high flow rates for marine and aquatic applications. Corrosion resistant C-Series centrifugal horizontal pump models with enclosed 56C motors and carbon/ceramic seals are ideal for processing applications that require continuous service. Magnetic drive R Series Hayward pumps are perfect for use in a variety of industrial applications, because they offer easy maintenance and a seal-less design.
Hayward Z Series Solenoid analog and digital metering pump models along with D, S and T Series vertical pumps are also available at Arroyo Process Equipment. Applications for Z Series metering pumps include chemical dosing, cooling towers, metal plating, animal life support systems and more. Vertical Hayward pumps are also used in countless water-related industrial applications.
Our Specialty Products Line features Hayward equipment such as SB Series Simplex and DB Series Duplex basket strainers, Y-strainers and controls. The PVC, GFPP, Eastar and CPVC basket strainers in our line are often used together with Hayward pumps at processing facilities in Florida, Georgia, Haiti, Jamaica, Puerto Rico and neighboring territories. Additional Hayward products are in stock at our Arroyo Process Equipment Parts Department or available by special order. To learn more about horizontal pump and other products in our Hayward Flow Control Line, contact one of our experienced and knowledgeable processing equipment specialists today.