Industrial Water Pumps For Agricultural, Manufacturing, Municipalities & Industrial Applications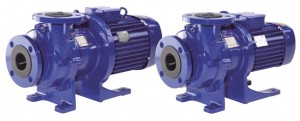 Industrial water pumps are meant to be hard working pumps. They may be dealing with water as well as a lot of other fluids and therefore they must be built with the best construction materials on the market. At Arroyo Process Equipment, we are committed to offering only the finest brands for your industrial application.
There's no reason to settle when it comes to a wastewater treatment pump. The right pump is going to ensure your plant is working efficiently all year long. A bad pump can cause your entire operations to come to a standstill — and our engineers will help you select the right industrial pump to be sure that doesn't happen.
Industrial Water Pumps From Arroyo Process Equipment
At Arroyo, selection is everything. We know that there are many different applications for water pumps and that is why we offer many unique products. Some of the industrial water pump solutions we offer include:
Submersible
Self-priming
End suction
Double suction
Vertical
Horizontal
You will always find what you need in terms of a water pump. We stock leading brands to make it easier to find what you need and we service the United States, Central America and even South America markets.
Selecting industrial water pumps does not have to be a complicated process. Contact us today and let our engineers walk you through the vast selection of pumps that we have to offer.