End Suction Centrifugal Pump for Those in Florida & the Caribbean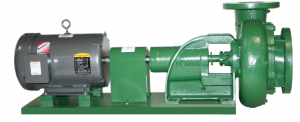 The pump specialists at Arroyo Process Equipment are the experts to call when you need an end suction centrifugal pump for your fluid processing operations in the United States or across the Caribbean. We're a family owned and operated fluid handling equipment supplier that was founded in 1968. Since then, we have grown into an industry leader. We're proudly recognized as the supplier that represents and distributes the highest quality equipment, such as Barnes self-priming pumps and Gorman-Rupp centrifugal pumps, and provides unsurpassed service and support to fluid processing organizations from two Florida locations.
End Suction Centrifugal Pump From Arroyo Process Equipment
End suction centrifugal pumps are one of the most common types of pumps used for processing water and other low viscosity fluids. They are used in countless industrial applications such as chemical processing, mining, wastewater treatment, pulp and paper processing, food processing, and agricultural irrigation. An end suction single stage pump has one impeller and a horizontal shaft. The type and size of the impeller determines the maximum solid content the end suction pump can handle. Multi-stage end suction pumps are available, but they are less commonly used. Arroyo Process Equipment has hundreds of single and multi-stage end suction models in our pump lines including the following and more:
Deming 3060 Series end suction ANSI pumps
Burkes GNA,GNB, GNC, G, GA and DF Series heavy duty pumps
Barnes HCU Series Barnes
Griswold closed-couple and frame mounted E,F and G Series pumps
Weinman 375 and 575 Back Pull Out Series pumps
Grundfos NK and NKG Series single stage pump models
Operations and service department managers know that Arroyo Process Equipment is the fluid processing supplier they can always rely on when a problem occurs with their pumps or other fluid handling equipment at Florida, Georgia, Puerto Rico, Dominican Republic or Caribbean processing operations. When an end suction centrifugal pump breaks down and needs to be repaired or replaced, our team springs into action by shipping pump parts and/or new equipment quickly to keep any downtime to a minimum. Contact us today for quotes on Barnes self-priming pumps, end section pumps, mixers, gearboxes, or any other processing equipment and replacement parts you might need.