Internal Rotary Gear Pump Products for Operations Throughout the Americas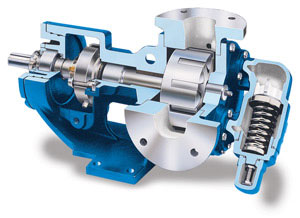 For an unmatched selection of internal rotary gear pump products, you can depend on Arroyo Process Equipment, Inc. We are proud woman- and Hispanic-owned company, and we've provided exceptional equipment, support, experience, and engineering to processing operations across the globe since 1968.
Internal rotary, self priming pump products are a versatile part of many processing operations, as they can pump liquids of varying viscosities. They can also handle a wide range of fluid temperatures. When you need an internal gear positive displacement pump, the process equipment experts at Arroyo are prepared to help you select the products best suited to your specific applications.
Internal Rotary Pump From Arroyo
Our internal rotary gear pump products can be used in processing:
Alcohols and solvents
Soaps
Asphalt and tar
Paint and inks
Corn syrup, peanut butter, and other food products
Resins
Oil
And much more
In addition to internal rotary pump products, we also offer a wide array of industrial centrifugal pumps, including ANSI process, submersible, turbine, and others.
Contact Arroyo today to find out why businesses throughout the U.S., Central America, and South America turn to us for all of their rotary gear pump and other processing equipment needs. From motors and mixers to strainers and turnkey package solutions, Arroyo is your source for top-of-the-line process equipment and service.