MasoSine Pumps for Florida, Georgia, Puerto Rico, the Dominican Republic & the Caribbean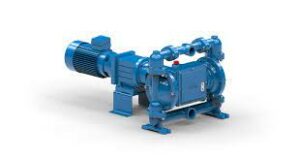 MasoSine pumps are the ideal choice for food and beverage producers, cosmetic manufacturers, chemical processors and other organizations requiring pump equipment with low shear and gentle pumping with minimal pulsation. MasoSine is one of Watson-Marlow Fluid Technology Group's ten brands that provides exceptional processing equipment solutions to users worldwide. The entire Watson-Marlow product line is available at Arroyo Process Equipment and includes MasoSine Pumps, BioPure single-use tubing systems, Flow Smart silicone hoses, and sanitary gaskets. We're a family owned and operated fluid handling equipment supplier that industry professionals have trusted and relied on since 1968. Our product lines include pumps, mixers, motors, drives, cartridge filter equipment and more from the most respected manufacturers in the industry.
MasoSine Pumps From Arroyo Process Equipment
MasoSine pumps are positive displacement pumps featuring a sinusoidal rotor that produces power suction without degrading the delicate fluids that are being pumped. The MasoSine line includes SPS Series sanitary pumps, MR Series sanitary high flow pumps, EcoSine Series pumps and the revolutionary new Certa Series pumps. Cleaner than other any other circumferential piston or lobe pump on the market today, Certa Series pumps feature benefits such as the following and more:
EHEDG Type EL Aseptic Class 1 with all FDA and EG1935 compliant contact parts
Low shear handling that eliminates raw ingredient waste
Ancillary dampeners are not required
Reduced cleaning agents and CIP cycle offers lowest ownership costs
Highly energy-efficient; up to 50% reduction in power consumption
Many processing operations in Florida, Georgia, Puerto Rico, the Dominican Republic and throughout other islands in the Caribbean that utilize MasoSine pumps, other sanitary pumps or low shear pump equipment often also require cartridge filters. Arroyo Process Equipment has everything from membrane and wrapped depth cartridge filter products to pre-filter cartridges, specialty cartridges and more in our Eaton Cartridge Filter Line. Our pump specialists and application engineers are always happy to help customers match equipment in our lines with their operation specifications. Contact us today for performance curves, dimensions, materials of construction and other technical data on MasoSine pumps and/or the other processing equipment we distribute at Arroyo Process Equipment.