Pump Repair for Facilities in Florida, Georgia, Caribbean & Surrounding Islands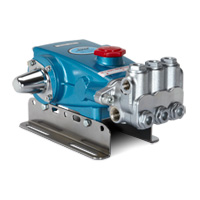 When you need to choose a reputable company to be the supplier for your fluid processing equipment, look no further than the leading industrial fluid processing supplier seasoned professionals have trusted for the past 50 years – Arroyo Process Equipment. We are the best source for your processing operation when you need replacement parts for an industrial pump repair or sump pump maintenance service.
Our parts departments in Florida have internal gear pump, sump pump and other pump replacement parts from the top equipment brands such as Toyo Pump, Corken, Warren Rupp and more that are ready to ship to your facility for your pump repair. We can also special order pump and other specialty equipment parts we don't stock in our inventory and have them drop shipped directly to you at your facility. Arroyo Process Equipment is a Hispanic, woman-owned and operated business that proudly inventories the entire Phantom Pumps line. Pumps and parts in this line are compatible with major pump brands and offer your service technicians an excellent opportunity to lower your pump repair and maintenance costs.
Pump Repair in Georgia From Arroyo Process Equipment
The Arroyo Process Equipment parts inventory includes more than just pump parts. We carry parts and accessories for your other processing equipment such as the following and more:
Mixing Equipment
Industrial Gearboxes and Drives
Pump Strainers
Industrial Electric Motors
Inevitably, processing equipment will wear out or break down to a point beyond repair, even if it has been properly maintained during its lifetime. Whether you need to replace a pump or mixer or even a complete system, our equipment experts at Arroyo Process Equipment will assist you with the selection of new equipment that will produce the same or better results at your processing operation. Once the equipment has been selected, we will have it shipped to your location as quickly as possible to quicken your pump repair, reduce down time and get your operation running again. If needed, Arroyo Process Equipment proudly offers sump pump and other equipment installation services.
Contact a courteous and knowledgeable Arroyo Process Equipment parts specialist today for quotes or assistance with selecting the replacement parts needed for your pump repair or maintenance services on your processing equipment at your facility in Florida, Georgia, Caribbean and the surrounding islands.