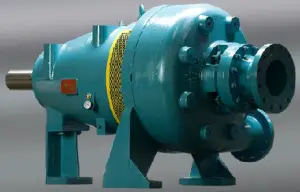 Slurry Pumps in the United States, Central America, & South America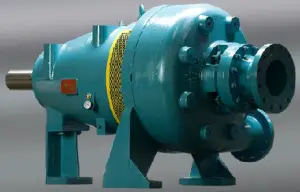 Slurry pumps are a tougher version of centrifugal processing pumps. A slurry pump is used as a hydraulic transport for solids, whereas a centrifugal pump is primarily used to force out clear liquids. It is basically a water pump that is meant to be used in areas with heavy-solid materials, such as clay, sand, mud and silt. At Arroyo Process Equipment, our slurry pumps are designed for excellent performance, low-energy consumption, easy maintenance and a long wear life.
Slurry Pumps From Arroyo Process Equipment
A slurry pump can be installed wet, semi-dry or dry, depending on the application.
Typically, horizontal slurry pumps are used for dry installation; the drive and the bearings are kept out of the slurry. The slurry is clear of any liquids and free standing. A vertical slurry can also be installed dry, with the slurry expelled horizontally.
For semi-dry installations, horizontal slurry pumps are used. A special configuration is used when dredging. The pump is used with the bearings flooded, so special sealing is done to protect the bearings.
When a wet installation is necessary, the pump will be fully submersed. The slurry for wet installations has a special design and seal.
Choosing the correct slurry pump. When it comes to processing pumps, such as a slurry pump, one-size-fits-all does not apply. One of the most important elements in using a slurry pump is the expected abrasion and the nature as well as the size of the solids that will be transported by the water. For example, mines and pipeline applications typically require extremely large slurry pumps that can withstand high levels of abrasion wear.
Contact us and we will be happy to answer any questions you may have about a slurry pump or provide more information to help you choose the best processing pumps for needs.