Commercial Pumps for Processing Operations in the United States & Beyond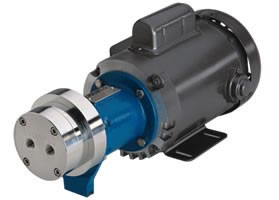 Arroyo Process Equipment offers a comprehensive selection of commercial pumps to industrial operations throughout the world. The pumps we offer come from reputable industrial pump manufacturers known for producing high-quality equipment, and we're confident we can provide a quality solution for virtually any application.
Commercial Pumps From Arroyo Process Equipment
Our selection of commercial pumps includes:
Positive displacement pumps:
Rotary gear pump
Air operated diaphragm pump
Vane pump
Lobe pump
Metering pump
Progressing cavity pump
And more
Centrifugal pumps:
ANSI pump
End suction pump
Self priming pump
Close coupled pump
And more
For industrial operations in Miami, Tampa, Orlando, Jacksonville, and other cities in Florida, Arroyo also offers service and repairs on many types of processing equipment. Our experienced technicians are trained to perform repairs on commercial pumps, mixers, industrial gear boxes, and many other types of equipment from reputable manufacturers like Viking Pump, Warren Rupp, Toyo, Sumitomo, Falk, Hansen, Sharpe, and Lightnin. Our technicians are available 24 hours a day, seven days a week, and can perform quick repairs to minimize the costly downtime at your facility.
To receive more information on any of our commercial pumps or the industrial pump repair services we offer to facilities in Florida, contact us today. Arroyo, a proud woman- and Hispanic-owned business, serves processing operations in the United States, South America, Central America, and beyond.