Bredel Hose Pumps in Florida, Georgia, Puerto Rico, the Dominican Republic & the Caribbean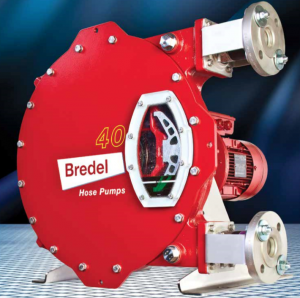 Arroyo Process Equipment is the industry's trusted source for industrial fluid processing equipment. We distribute the highest quality products from the most respected manufacturers in the industry including Bredel hose pumps, Watson Marlow peristaltic tube products, Viking spur gear pumps, Cat Pumps high pressure piston pumps, Sharpe Mixers mixing equipment, Weg gearboxes and motors, PulsaTron pumps, and other pump-related products.
Bredel Hose Pumps From Arroyo Process Equipment
Mining, pulp and paper, food and beverage, chemical processing, water treatment, and other industrial processing operations often require Bredel hose pumps. A hose pump is a positive displacement peristaltic pump with a flexible tube, which is positioned inside the circular pump casing. Our impressive selection of hose pumps from Watson Marlow Fluid Technology Group and Hayward Gordon that can be found at Arroyo Process Equipment features the following pump equipment and more:
Hayward Gordon SRP, LRP and STP Series peristaltic hose pumps
Bredel Apex Series hose pumps
Bredel Clean-In-Place (CIP) hose pumps
Bredel DuCoNite pumps
Bredel CIP Series hose pump models are certified by both 3A and the FDA, and the pumps are compliant with food quality hoses requirements FDA21, CFR177.2600 and EC 1934/2004. Models feature flow rate maximums up to 476 GPM and pressures up to 232 PSI. In addition, our Hayward Gordon peristaltic hose pumps include both high and low pressure designs. The STP series models for high pressure industrial applications also have a sliding shoe design, which increases suction.
Along with hose pumps, fluid processors benefit by adding products from PulstaTron to facilities involved in chemical processing and other applications. The PulsaTron pumps available from Arroyo Process Equipment are ideal for applications processing acids, caustics, polymers, bleaches, solvents, dyes, cleaning agents and other abrasive fluids.
The trustworthy and reliable service and support processors in Florida, Georgia, Puerto Rico, the Dominican Republic and other islands in the Caribbean receive from Arroyo Process Equipment is unmatched by other distributors. We have pump specialists and an exceptional team of applications engineers on staff at our two Florida locations to assist customers with everything from pump selection to creating custom package systems complete with Bredel hose pumps and PulsaTron pumps, mixers, pulsation dampeners, or other products. Contact us today for more information or quotes on any of our pumps, mixers or other specialty equipment.