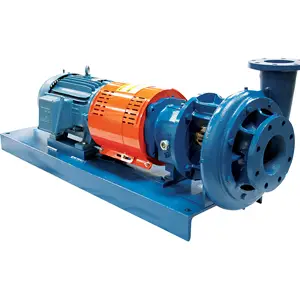 Centrifugal Pump in Florida, Puerto Rico, the Dominican Republic & the Caribbean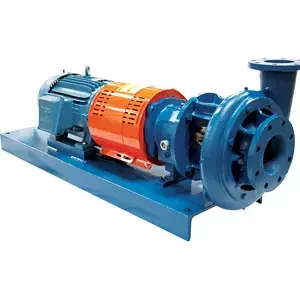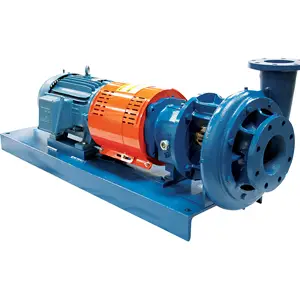 A centrifugal pump is often the best choice in Jamaica, Trinidad, Tobago, and Cuba for processes requiring high flow rates in industries such as citrus, industrial waste and chemical processing. ANSI process, single stage, end suction, and vertical are just a few of the centrifugal pumps in the complete line offered by Arroyo Process Equipment. We have been providing process equipment solutions for industrial use for over 40 years. Industry leaders choose us for our top quality products, expertise, knowledgeable staff and industrial pumps service. In addition to industrial pump service, our factory-trained technicians provide repair and maintenance on mixers, strainers, motors, gear boxes and more to facilities located in the metro areas of Florida. We also offer expert installation of our process equipment throughout Florida.
Centrifugal Pump From Arroyo Process Equipment
Arroyo Process Equipment has a team of chemical and mechanical engineers on-site at our headquarters to assist customers on product selection. With many different types of pumps available, our engineers are familiar with the specifications, advantages and disadvantages of every pump we offer. For example, a centrifugal pump offers several mechanical advantages over other industrial pumps including the following that may indicate whether a particular centrifugal pump will be the correct choice for your application:
Absence of drive seals eliminates leak risk
Air gap between chamber and motor provides thermal barrier
Separation prevents seepage into motor
Magnetic coupling prevents damage caused by overload
As one of the leading centrifugal pumps distributors, you can find any type of centrifugal pump you need at Arroyo Process Equipment, including the following and more:
For clients in Florida, North Carolina, Puerto Rico, the Dominican Republic, Jamaica, Trinidad, and the Caribbean needing a variety of equipment that work together in perfect congruence for particular specifications, we offer package systems designed by our engineering team. Controls, valves, coupling and more can be included in any process equipment solution created by our engineers; from a simple one-pump system to multi-pump systems. Our industrial pumps service includes skid-mounted centrifugal pump or other equipment transportation options. To learn more about the array of services offer by Arroyo Process Equipment, contact us today!