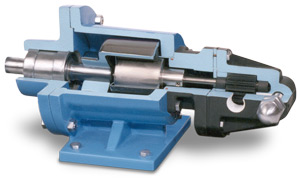 External Gear Pumps for those in Florida, North Carolina, the Caribbean, and Beyond
Should you need external gear pumps, we are your trusted source for quality pumps. Regardless of whether you need them for manufacturing, construction or various other applications, Arroyo Process Equipment is able to provide you with the variety you need.
Choosing the right external or internal gear pumps is an integral part of your operations. If you choose the wrong pump, you may not be able to pump fluids in a productive manner. We are committed to providing you with the right pump — and we have expert engineers on staff to ensure you always have the best pump necessary for the environment it must work in.
External Gear Pumps From Arroyo Process Equipment
External gear pumps work on a simple principle — two gears rotate and un-mesh at the suction side, creating a vacuum. Fluid is drawn into the pump and the space between the gear teeth is used to transport the fluid along the outer part of the housing to then discharge it. When the gears re-mesh, the fluid is discharged.
There are many reasons why you would use external gear pumps, including:
High discharge pressure
Use for corrosive fluids
Use for hazardous fluids
Available in many styles
We have a wide variety of industrial pumps, including Viking Pumps to select from. When you have questions or you wish to receive a quote regarding the external gear pumps, contact us for more information or to request a quote on the external gear pumps you need.