Basket Strainer for the Bahamas, Cayman Islands, Cuba, Haiti, Tobago & Turks and Caicos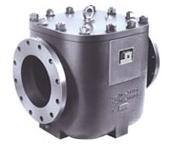 When fluid processors need to add a basket strainer to their operation, they count on the fluid handling equipment experts at Arroyo Process Equipment. We're a family owned and operated equipment supplier that was founded 50 years ago, and we partner with the most respected equipment manufacturers in the world. We're renowned in the industry for the exceptional products we represent and the unparalleled services we provide.
Bahamas Basket Strainers From Arroyo Process Equipment
Most industrial fluid processing facilities use strainers and/or filtration equipment to protect their processing pipes and equipment and to filter undesired substances from the fluids that are being processed. Arroyo Process Equipment has the most complete line of simplex and duplex basket strainers. Simplex strainers are typically used at processing facilities where the strainers can be changed or cleaned during processing down-time. Processing facilities that run continuously without interruption require duplex strainers that feature two basket chambers which operate independently of each other. Basket strainers in our line include the following and more:
Viking Pump simplex Lid-Ease basket strainer models with inclined basket design and top basket removal
Viking Pump duplex models with side drain plugs on each duplex strainer well
Eaton simplex steam jacketed basket strainer models for hot fluid processing applications
Eaton simplex model 510 Multi-Basket strainers featuring 4 strainer baskets
Eaton 50, 52, 53 BTX and 570 duplex basket strainers
Hayward SB Series simplex and DB series duplex basket strainer models
Helping organizations find pumps, strainers, mixers and other equipment that meets their processing operation requirements is one of our specialties at Arroyo Process Equipment. Our pump specialists are always on hand to help customers select the best equipment for their needs by carefully reviewing new equipment specifications with existing equipment to ensure compatibility.
Arroyo Process Equipment provides free fluid handling equipment quotes to organizations with facilities in the Bahamas, Cayman Islands, Cuba, Haiti, Tobago & Turks and Caicos. Contact one of our courteous and knowledgeable associates today to learn more about our selection of pump and industrial processing equipment or request a basket strainer or duplex strainer quote.