Close Coupled Pumps for the Bahamas, Cayman Islands, Haiti, Tobago & Virgin Islands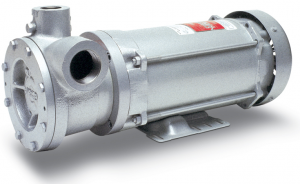 Processors handling non-corrosive liquids often choose close coupled pumps for their processing operations because they cost less and are typically more versatile and easier to install than frame mounted or separately coupled pumps. Pump manufacturers, such as Crane Pumps & Systems, Griswold Pump Company and Cat Pumps, often produce both frame mounted and close coupled models.
Bahamas Close Coupled Pumps From Arroyo Process Equipment
Arroyo Process Equipment is a family owned and operated fluid handling supplier with close coupled pumps in both our Centrifugal and Positive Displacement pump lines. As a leading pump distributor, we have an exceptional selection of close coupled pump models from the top manufacturers in the world including the following and more:
Burks, Weinman and Deming end suction pumps from Crane Pumps
Crane Pumps self-priming ICU and CCE Series Barnes industrial pumps
Cat Pumps direct drive, electric motor plunger pumps
Liquiflo Equipment Company 2-Series gear pumps
Corken C-Model multi-purpose turbine pumps
Watson Marlow 621 Series pumps
Clients are often overwhelmed by the huge selection of pumps in our line, so they seek pump selection assistance from our pump experts at Arroyo Process Equipment. We have chemical and mechanical engineers on staff with the knowledge and experience that is needed to make recommendations on our pump models to best match each client's unique processing operation specifications and requirements. Our engineering team also creates complete custom pump systems for clients that feature all necessary components, such as pumps, motors, drives and more, used in fluid handling operations.
Our Parts Department carries replacement parts and accessories for all of the close coupled pumps and other processing equipment we distribute. Our parts specialists can help identify the parts needed by in-house service technicians in the Bahamas, Cayman Islands, Haiti, Tobago and the Virgin Islands for equipment repair and preventative maintenance services. Equipment and replacement part orders are always processed and shipped out quickly from our order processing department. Contact an Arroyo Process Equipment pump specialist today to learn more about the benefits of partnering with us for your processing equipment products and services.