HVAC Pump for Florida, Georgia, Puerto Rico, the Dominican Republic & the Caribbean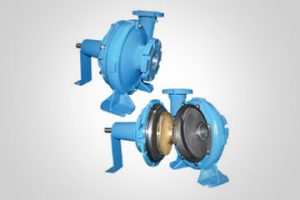 HVAC industry professionals rely on the experts at Arroyo Process Equipment for high quality HVAC pump equipment and engineering expertise. We've serviced the needs of customers for nearly 50 years and are now recognized as a leading supplier in the fluid handling industry. We are always committed to providing our customers with unparalleled services and support and partner with only the best processing equipment manufacturers in the industry. We offer product lines that include pumps, mixing equipment and specialty products such as gearboxes, drives, motors and more. Our centrifugal and positive displacement pump lines cover most any need from a caustic pump to a multi-stage centrifugal pump and everything in between.
HVAC Pump From Arroyo Process Equipment
HVAC pumps typically fall in the centrifugal pump category at Arroyo Process Equipment. Crane Pumps & Systems is a leading pump and accessory manufacturer that provides industrial and commercial pump solutions to industries such as HVAC, mining, oil and gas. Many of our HVAC pump products are from the Crane product line. Our HVAC pump selection at Arroyo Process Equipment includes the following pump equipment and more:
Burks end suction pumps, which are used in condenser, chilled and hot water HVAC system applications
Prosser electric dewatering pumps that are portable and submersible
Burks regenerative turbine pumps, which are used for boiler and other high pressure/low flow applications
Weinman vertical inline pumps with flows up to 1,400 GPM
Self-priming Phantom Pumps, which are cost-effective dewatering pump alternatives
Weinman split case pumps, which are perfect for boiler feed, booster service and high head pumping
HVAC equipment and cleaning solutions often contain caustic and/or corrosive substances. It's important to use a caustic pump in applications where equipment may come in contact with these types of substances. Pump specialists and application engineers at Arroyo Process Equipment are available to make recommendations on the HVAC and caustic pump equipment that will provide the best results.
Arroyo Process Equipment customers in Florida, Georgia, Puerto Rico, the Dominican Republic and the Caribbean can often save on HVAC pump related costs with the Phantom Pumps HVAC pump equipment available in our centrifugal pump line. Contact us today to learn more.