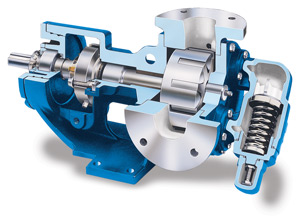 When you're in the market for internal gear pumps for your industrial processing applications, you will have plenty of options to choose from with Arroyo Process Equipment. We are committed to providing you with a vast selection of pumps — and our team of engineers are always available to answer any questions that you may have.
Internal gear pumps use two rotating gears and create a vacuum to pull fluid into the pump. There is space between the gear teeth designed to push fluid into the discharge side and then the gears come back together in order to discharge the fluid from the pump entirely.
You will be able to choose from many internal gear pumps depending on the environment you are working within. Some of the options you can choose from include:
Low pressure
High speed
Non-corrosive
Heavy duty, bracket mounted
The more you know about your environment, the better decisions you can make in terms of the pump you require. If you have questions about which pumps will work best, our engineers are trained to provide you with the answers you need.
In addition to our line of internal gear pumps, we also carry a full line of sump pumps, pump strainers, Viking Pumps and much more. Contact us to learn more about our selection of internal gear pumps or to request a proposal today.