Portable Mixers in Florida, Georgia, Puerto Rico, the Dominican Republic & the Caribbean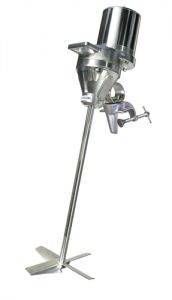 Arroyo Process Equipment has been trusted and relied on by fluid processing specialists for the past 50 years. As an industry leader, we represent and distribute the highest quality equipment from the world's highest rated manufactures. We provide unparalleled technical support and are always available to answer your questions. Our team of pump specialists of engineers can provide you with recommendations for the portable mixers, top entry mixers or other equipment your facility needs to operate at maximum productivity.
Sharpe mixers are able to produce a high velocity environment through the high speed impeller inside of each mixer. They are able to dissolve dry powders into a liquid, disperse two liquids, and complete other processes crucial to your operations. Each Sharpe portable mixer offers a variety of benefits such as a wide range of motor options, protected shaft coupling, long performance life, easily installed C-clamp mounts, power coated alloy housing and much more. Sharpe also offers models with multiple speeds to achieve your desired end result. Sharpe portable mixers typically feature:
White powder coated drive
Optional stainless steel drive for paint free corrosion protection
Standard, commercially available motors
Enclosed shaft coupling for safety and protection
And more!
Arroyo Process Equipment proudly distributes Sharpe mixers from both of our locations because of their popularity and, more importantly, their reliability. Mixers are vital for processing facilities to ensure there is no cross-contamination between various solutions, and portable mixers and top entry mixers from Sharpe allow your facilities to safely and properly disperse and dissolve all of the solutions you process.
Arroyo Process Equipment has everything your fluid processing facilities in Florida, Georgia, Puerto Rico, the Dominican Republic and the Caribbean could need including repair services on broken equipment. Contact one of our expert pump specialists today for assistance selecting the best portable mixers to meet your specifications or request quotes on any of the mixers we distribute.