Prosser Submersible Pump in Florida & Nearby Regions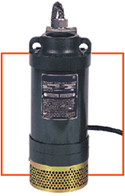 Large-scale manufacturing operations run a risk of flooding, which can cripple progress if it is not handled immediately. When fluids enters a work area from a leak or busted pipe, it can quickly fill the space. Fortunately, the Prosser submersible pump is an ideal solution for nearly any flooding or dewatering situation. These pumps are relatively small and lightweight, which make them a perfect solution for removing fluids on a jobsite or in a facility.
Transport Fluids at Any Angle
Regardless of the direction the fluid needs to be pumped at, a Prosser submersible pump can perform at any angle. Whether the fluid needs to be transported horizontally, vertically, or even a 45 degree angle, the fluid can be pumped without the need for suction hoses or even a foot valve. The pump's motor resides within the body of the pump, which enables it to operate quietly, efficiently and without overheating. The water surrounding the pump acts as a cooling agent and reduces related noise levels. An inline suction-and-discharge mechanism enables the pump to greatly increase the rate at which the fluid is being transported. Due to its small size, the pump is highly versatile. It can fit in nearly any space.
Simple, Easy Pumping Solutions
A Prosser submersible pump is an ideal solution for pumping large quantities of fluids from areas that are already flooded or that might become prone to massive fluid intake. These pumps can be combined with Prosser dewatering pumps. Each Prosser dewatering pump features a slim design to enable use in a wide range of applications. These lightweight pumps do not require priming, a hose for suction, or a foot valve. When an application is especially large, multiple submersible and dewatering pumps can be set up in the same location to transport the fluid at a much faster rate.
Arroyo Process Equipment has more than 50 years of experience working with Prosser and other top pump manufacturers. Our expert team of chemical and mechanical engineers can provide you with custom solutions for any jobsite or manufacturing operation. We are headquartered in Bartow, FL and have locations in Miami, FL, Jacksonville, FL, and the Dominican Republic to better serve you. Our complete product lines of pumps, strainers, valves, shafts, gearboxes, drives, motors and other fluid processing equipment are available to those in Florida, Georgia, Alabama, South Carolina, North Carolina and nearby regions. Contact us to learn more about our Prosser submersible pump and Prosser dewatering pump equipment. We look forward to serving you and your operation facility!