Sandpiper Diaphragm Pump in Florida & Other Regions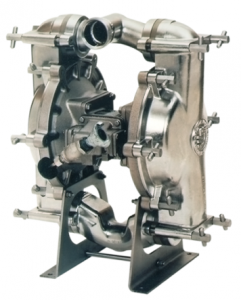 Arroyo Process Equipment has all of the equipment needed to keep processing facilities across a broad range of industries operating efficiently. We distribute pumps and other industrial processing equipment from an assortment of the world's leading manufacturers, including Warren Rupp, Viking Pumps, Toyo Pumps, and many others. From a Sandpiper diaphragm pump to a Barnes sanitary lobe pump and everything in between, we have the products to be your single source for any of your industrial equipment needs.
Warren Rupp Sandpiper Pump Products
We are pleased to offer a broad assortment of Warren Rupp Sandpiper pump products, including a Sandpiper diaphragm pump, Sandpiper oil and gas pump, Sandpiper heavy-duty ball pump, containment duty ball pump, and more. Our team of pump and processing equipment experts can help you choose the ideal pump, parts, and processing equipment for your particular facility with the best recommendations and facility evaluations.
Other Manufacturer Products
Arroyo Process Equipment is also pleased to provide an assortment of other manufacturers' products. Some of our most popular brands include Viking Pump, Phantom Pumps, Pulsafeeder, Liquiflo, Toyo Pumps, and many others. We carry it all at Arroyo Process Equipment, so you can turn to us for all of your industrial processing equipment needs. Product options include:
Pumps
Mixers
Gearboxes
Motors
Strainers
Filter Regulators
and More!
Complete Pump Packaged Systems
Our family-owned and operated company also proudly offers complete pump packaged systems to outfit your entire operation. Our engineers will design a system that meets your specific application and skid-mount all of your products for shipment so that you can enjoy fast and easy installation on delivery.
If you are looking for a Sandpiper diaphragm pump or nearly any other industrial processing equipment for your facility in Florida, Georgia, Alabama, South Carolina, North Carolina, and other regions, contact Arroyo Process Equipment today to request quotes. We look forward to serving you!