Slurry Pump for Florida, Puerto Rico, the Dominican Republic & the Caribbean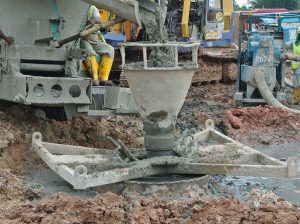 Arroyo Process Equipment is the place to call when you need help selecting the best slurry pump for your pumping application. We are recognized as the source most trusted in Jamaica, Trinidad and Cuba for processing equipment and industrial pump parts. Our processing equipment experts are knowledgeable on the specifications of every slurry pump from light duty to heavy-duty models that are in our line of high quality products from the top pump manufacturers in the world. Slurry pumps are often larger and more durable than many other types of pumps because of the nature of the substances such as cement or clay contained in liquid they transport. The pumps are frequently used in mining, agriculture, wastewater treatment and other industries.
Slurry Pump in Florida From Arroyo Process Equipment
Arroyo Process Equipment has all the industrial pump parts and other equipment parts you need to keep your process moving. Whether you need a slurry pump part or a part for another type of industrial pump for an emergency repair or as part of your equipment maintenance program, we can get you what you need. Our parts specialists can quickly determine which part you need. Overnight shipping is often available on parts for the following type of equipment and more:
Centrifugal pumps
Positive Displacement pumps
Industrial mixers
Gear boxes
Pump strainers
Agitators
For more than 45 years, Arroyo Process Equipment has provided the process industry with equipment manufactured by the top brands in the industry including Viking Pump, Wright Flow Technologies, Hayward Gordon, Sharpe Mixers, Sew Eurodrive and more. Our highly trained staff of specialists includes our in-house team of mechanical and chemical engineers who can create custom package systems for our clients. Custom packages can be as simple as a single slurry pump system or a complex system featuring multiple pumps. Agitators, mixers, control boxes and more are components that are often included in the custom systems designed by our engineering team.
For assistance in choosing the best slurry pump for your project in Florida, Puerto Rico, the Dominican Republic or elsewhere in the Caribbean, contact an Arroyo Process Equipment pump specialist today.