Burks Pumps for Florida, Georgia, Puerto Rico, the Dominican Republic & the Caribbean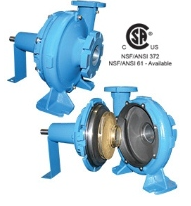 Burks Pumps centrifugal pump models have been pumping fluids on job sites since Arthur W. Burks founded the company back in 1914. Today, Burks Pumps is one of the most respected brands in the Crane Pumps & Systems pump line. As a Crane Pumps & Systems Authorized International Distributor, Arroyo Process Equipment is the supplier that fluid processing professionals trust and rely on for all their Burks pump equipment, accessories and replacement parts.
Florida Burks Pumps From Arroyo Process Equipment
The Centrifugal Pump Line at Arroyo Process Equipment includes a wide assortment of Burks Pumps equipment including regenerative turbine pump, self-priming end suction pump and vertical multistage pump models. Burks Regenerative Turbine Series pumps are ideal for pumping lower viscosity clean, non-abrasive and non-corrosive liquids on high-head, low flow industrial applications such as the following and more:
Oil Heat and High-Temperature Water Transfer
Additive Metering
Condensate and Boiler Feed Return
Pressure Boosting
Cold and Hot Water Circulation
Burks closed coupled and base mounted regenerative turbine pump products have capacities up to 91 GPM, heads from 225' to 350', RPM ranges of 1750 to 3450 and Life-Lok® external adjustments, which help extend the life of the pump.
BPV Series vertical multistage Burks pumps ideal for water treatment, chemical processing, agricultural irrigation and other industrial applications feature stainless steel pump shafts and diffusers, ANSI Class 250/300 flanges, optional Victaulic coupling and more.
Service technicians at fluid processing facilities and operations in Florida, Georgia, Puerto Rico, the Dominican Republic and throughout the Caribbean can count on Arroyo Process Equipment for genuine replacement parts and accessories. Our Arroyo Process Equipment Parts Department has thousands of parts and accessories in stock or available by special order for all of the pumps, mixers, gearboxes and other processing equipment we represent and distribute from the top manufacturers in the industry such as Viking Pump, Cat Pumps, Sharpe Mixers, Eaton Filtration, Weg and more. Contact one of our processing equipment specialists for a list of Burks Pumps and other products in our line. Or, speak to a specialist about the unparalleled services our team of mechanical and chemical engineers can provide to you and your organization.