Tranquilizer Pump for Florida, Georgia, Puerto Rico, the Dominican Republic & the Caribbean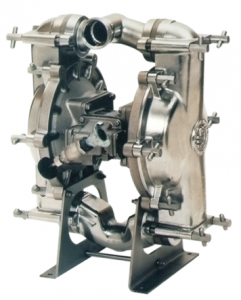 Arroyo Process Equipment is a fluid handling equipment supplier that represents and distributes the full line of Tranquilizer pump surge suppressors from Sandpiper. Arroyo Process Equipment is a recognized leader in the fluid processing industry for providing processors with exceptional industrial pumps, mixers and specialty products, such as filter regulators, gearboxes and more, since 1968.
Tranquilizer Pump From Arroyo Process Equipment
The Sandpiper, Blagdon Pump and Pulsafeeder pump dampeners and surge suppressors that are available at Arroyo Process Equipment help to eliminate pulsations on air operated double diaphragm (AODD) pumps, piston pumps, gear pumps, metering pumps and other types of industrial pumps. Tranquilizer pump suppressors offer features and benefits such as the following and more:
Easy to install
Little attention required
Maintains a constant air volume cushion at all pressures
Self-charges automatically
Air in chamber is automatically released into atmosphere when fluid stops flowing
Tranquilizer pump surge suppressor brand models include TA1 and TA25 for 1" pumps, TD1-1/2 and TD40 for 1-1/2" pumps, TA2 and TA50 for 2" pumps and TA3 and TA80 for 3" pumps. Blagdon dampeners are designed for the same pump sizes as Tranquilizer pump equipment, while Pulsafeeder dampeners have are designed to fit 3/8" to 2" connections.
Our Arroyo Process Equipment Specialty Equipment Line also features diaphragm pump filter regulators from Sandpiper, Versa-Matic, Blagdon Pumps and other well-respected manufacturers. Processing facilities in Florida, Georgia, Puerto Rico, the Dominican Republic & the Caribbean can lower operating costs and reduce pump maintenance with reliable filters. The diaphragm pump specialists at Arroyo Process Equipment are experts that processors can trust and rely on to match surge suppressors, filter regulators, drives, motors and other processing equipment and accessories to existing pump equipment. Thousands of items are in stock or available for drop shipment from our Parts Department. Pump package systems are also available. They are designed and created by our team of engineers. Each system comes complete with one or more AODD pump and components such as filters, suppressors, control boxes and more. Contact us today for additional information or to request quotes on Tranquilizer pump surge suppressors or other pump equipment and supplies.