Filter Regulators for Florida, Georgia, Puerto Rico, the Dominican Republic & the Caribbean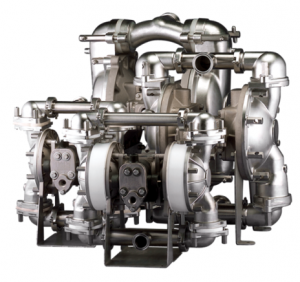 Processing professionals who are looking to add Warren Rupp Versa-Matic filter regulators, Sandpiper Tranquilizer pump surge suppressors or Pulsafeeder pulsation dampeners can always count on Arroyo Process Equipment to have the best selection of high-quality products from these and other well-respected manufacturers in the industry. We are a fluid handling supplier that's been servicing the industry for more than 50 years. Industry professionals know we have the selection of pump and related processing equipment they require to keep their operations running smoothly and efficiently.
Filter Regulators From Arroyo Process Equipment
Many fluid processing operators use filter regulators from Arroyo Process Equipment to control pressure and optimize pump efficiency and performance. The Warren Rupp Versa-Matic filter regulators in our line are specifically designed for use on air operated double diaphragm (AODD) pumps. Features and benefits of these regulators include the following and more:
Engineered for optimal pump performance
Reduce stress on components by regulating air pressure to the right amount
Polyurethane bowls
Mounting brackets are not needed
Pulsation and vibration dampened by liquid filled, durable pressure gauge
Regulators have an automatic drain
Sandpiper and Blagdon Pump are two of Warren Rupp's subsidiaries that manufacture filter regulators. Sandpiper manufactures reliable point-of-use AODD pump regulators with maximum inlet pressures from 150 to 175 psi and regulating pressure ranges from 0 to 125 psi in port sizes from ¼" to 1". Processing facility operators can control Blagdon BSP regulators independently of other processing equipment. BSP regulators are compact units combining the functionality of pressure regulators, filters and liquid-filled pressure gauges.
Tranquilizer pump suppressors from Sandpiper keep pumps virtually pulse free to help extend the life of pumps and other system components. Tranquilizer pump products are designed for pumps ranging from 1" to 3". These products are easy to install and require minimal attention. Our equipment experts and engineers at Arroyo Process Equipment are always happy to provide processors in Florida, Georgia, Puerto Rico, the Dominican Republic and the Caribbean with technical data, installation instructions and more on the surge suppressors, filter regulators and other processing equipment in our lines. Contact us today to learn more.