Viking Pumps for Florida, Puerto Rico, the Dominican Republic & the Caribbean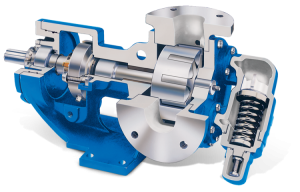 Arroyo Process Equipment has built its reputation in part by the quality of the manufacturers it has represented over the past 40 years. Names such as Nord for electric motors, Baldor for gearboxes and Viking Pumps for positive displacement pumps and accessories are renowned for providing processing solutions for industrial applications in Jamaica, Trinidad, Tobago, and Cuba. These and more are included in the Arroyo Process Equipment product lines. The first Viking Pumps were manufactured in Iowa over 100 years ago. Since then, millions of Viking pumps have been used in applications in oil production, pharmaceutical and sugar industries. Viking Pumps, Warren Rupp, Corken and others are now included in the product lines of the Idex Pump Group which is one of the companies Arroyo Process Equipment represents and distributes.
Viking Pumps in Florida From Arroyo Process Equipment
A submersible pump is a device designed for total submersion functionality in water, sewage, sludge or other fluids. A submersible pump can be used in many processes in citrus, water treatment and other industries. Because each submersible pump has different specifications and functions, our Arroyo Process Equipment team of engineers will help you select the perfect solution for your application from the following types of submersible pumps:
Diaphragm pumps
Wet pit submersibles
Dry pit submersibles
Close-coupled pumps
Portable discharge pumps
Grinder pumps
You can also work with our engineers to have a custom designed package system of pumps, motors, gearboxes and more created for your specific needs. If your operation is based in Florida, you can take advantage of our repair and maintenance services to keep your equipment running at maximum efficiency. Regular maintenance can also help to extend the life of your equipment. For projects in the metro areas in Florida, Arroyo Process Equipment has factory-trained and certified technicians experienced to work on Viking Pumps, Sandpiper pumps, Sharpe Mixers, Hayward Industrial products and other processing equipment from top manufacturers. Contact us today for a quote for any of your needs in Florida, Puerto Rico, the Dominican Republic or the Caribbean.