Weinman Pumps for Florida, Georgia, Puerto Rico, the Dominican Republic & the Caribbean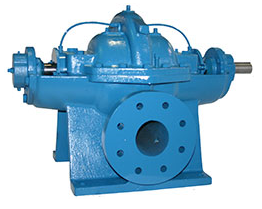 Removing and/or transporting unwanted water and solid laden fluids is easily manageable with Weinman pumps. Arroyo Process Equipment is an Authorized Distributor of pump equipment manufactured by Weinman and dozens of other top pump and fluid processing equipment manufacturers in the industry such as Prosser, Corken, Pulsafeeder, Grundfos, PumpWorks, Hayward Gordon, Sharpe Mixers and Sew Eurodrive. Arroyo is a family owned and operated fluid handling supplier that's second to none. Processors have trusted and relied on us since 1968 for superior equipment, exceptional customer service and unparalleled technical support.
Weinman Pumps in Florida From Arroyo Process Equipment
The first Weinman pumps manufactured in Columbus, Ohio way back in the 1860's were steam-driven. The company began manufacturing centrifugal pumps in the late 1940s and '50s as diesel began to replace coal. Today, Weinman Pump Manufacturing Company trade catalogs are on display at the Smithsonian National Museum of American History and all Weinman pump equipment is manufactured by Crane Pumps & Systems. We proudly carry the full Weinman line of pumps, parts and accessories at Arroyo Process Equipment including the following and more:
Non-Clog and Column Sump Pumps
Frame Mounted and Closed Coupled End Suction Pumps
Split Case Pumps
Suction Diffusers
Junction Boxes
Weinman pumps feature modern designs and are always constructed with the highest quality materials. Weinman column sump pumps have heads to 90 feet and sump depths up to 15 feet. SM-VS and SML-VS Series non-clog Weinman pumps have heads to 100 feet, flows to 800 GPM and RPM ranges from 1150 to 1750.
Prosser, Deming, Barnes, Burks and Crown are other exceptional Crane Pumps & Systems brands that are distributed by Arroyo Process Equipment. Prosser dewatering pumps include 100 submersible models, which are ideal for construction site dewatering, mining and other industrial applications. Prosser pumps are light-weight, slim and don't require priming. Prosser models also feature heads to 240', discharges of 2 inches to 6 inches and flows up to 1400 GPM.
Arroyo Process Equipment has a team of chemical and mechanical engineers to help organizations determine which Prosser and/or Weinman pumps are best suited for applications at their facilities in Florida, Georgia, Puerto Rico, the Dominican Republic and other islands throughout the Caribbean. Contact us today for more information.