Yamada Diaphragm Pump in Florida & Other International Locations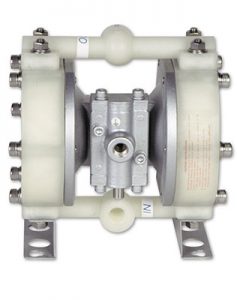 Yamada has been a leader in the pump industry for over a century. Founded in 1905, Yamada has been hard at work creating the most comprehensive line of AODD pumps in the world, and Arroyo Process Equipment has all of the Yamada pump products you need to outfit your processing facility – whether you need a Yamada diaphragm pump with a side port or split manifold.
Yamada Air Diaphragm Pump Options
The Yamada air diaphragm pump options are nearly endless, and each pump they make is durable and reliable. We are proud to be an authorized distributor of Yamada diaphragm pump products, parts, and accessories, and our experts can help you choose the ideal model for your processing facility.
Pumps: Yamada AODD pumps are available in an assortment of sizes and varieties. From air valve pumps and standard side port pumps to center port pumps, split manifold pumps, and everything in between, Yamada has you covered for all of your AODD pump needs.
Specialty Products: Our experts can also help you find the rare pumps you need to keep your operations running smoothly. We offer Yamada's diaphragm drum pumps, high-pressure pumps, powder diaphragm pumps, and more to keep facilities across an assortment of industries operating at peak levels.
Diaphragm Pump Accessories: If you need filters, regulators, liquid level controllers, dampeners, dry run detectors, or nearly any other pump accessory, your dedicated Arroyo Process Equipment representative can help you find it and quickly ship it to your location in the US or Caribbean.
Your Single Source
In addition to an assortment of Yamada pumps and accessories, our experts can also offer a range of equipment from other leading manufacturers. Our product line is vast, and we represent some of the best names in the business. Our brands include Viking Pump, Warren Rupp Sandpiper, Sharpe Mixers, and many others. View our English line card or Spanish line card now to see our complete offering.
We are proud to serve facilities in Florida, Georgia, Alabama, South Carolina, North Carolina, and other national and international locations, so if you need a Yamada diaphragm pump, Yamada accessories, or any other processing equipment, don't hesitate to contact us today to request quotes. We are an industry-leading distributor, and we look forward to serving you!