AODD Pump for Florida, Georgia, Puerto Rico, the Dominican Republic & the Caribbean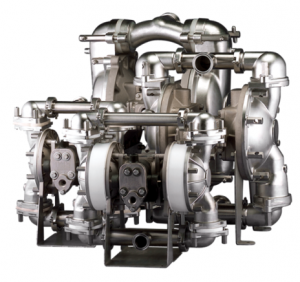 Fluid processing company owners and managers have learned that it's as important to find the right equipment supplier as it is to find the AODD pump and/or other equipment that is best suited for their operation specifications. That's why successful processors partner with Arroyo Process Equipment. While we represent and distribute equipment from the best names in the industry, including Sandpiper, Hevvy Pumps, Viking Pump, Watson Marlow, Sharpe Mixers, Sew Eurodrive and more, our customer service and technical support are the reasons we are widely recognized as the leading fluid handling supplier in the US and throughout the Caribbean islands.
Our Arroyo Process Equipment pump lines are always filled with Dorr-Oliver, Sandpiper and other exceptional name brand AODD pump equipment that is used daily for industrial applications such as mining, oil and gas transfer, waste water treatment and food processing. The ODS Series AODD pump models in our line manufactured by Dorr-Oliver include features and benefits such as the following and more:
Standard Cast Iron pump casing
Three-way, solenoid operated control valves
Precision constructed, multilayered diaphragms
Mufflers that reduce noise on the "A" scale to less than 85 DBA
Adjustable during AODD pump operation
AODD pumps able to run dry indefinitely
AODD Pump From Arroyo Process Equipment
Sandpiper has been manufacturing pumps since 1965 and is one of the top manufacturers in the industry. The Sandpiper AODD pump line includes Standard Duty Ball, Containment Duty Ball, Heavy Duty Flap and Heavy Duty Ball models ideal for hundreds of applications.
The pump selection assistance provided by our team of chemical and engineers at Arroyo Processing Equipment is invaluable to processors in Florida, Georgia, Puerto Rico, the Dominican Republic and the Caribbean tasked with deciding whether a Sandpiper AODD pump or a Hevvy Pumps submersible HNS Series pump is best for particular mining applications, or if a Phantom Pumps Slurry pump will perform better than a Hevvy Pumps DEC pump model for a specific slurry operation. Our engineers help by making recommendations after carefully matching processing requirements to equipment specifications and technical data. Contact an Arroyo Process Equipment specialist today to learn more about the engineering expertise and services we can offer your organization.