Regenerative Turbine Pump for Florida, Georgia, Puerto Rico, the Dominican Republic & the Caribbean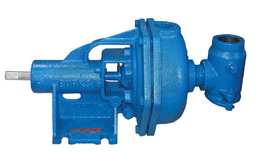 It's not surprising that organizations using regenerative turbine pump equipment for processing operations trust and rely on Arroyo Process Equipment. We're an authorized distributor of hundreds of regenerative turbine pump models from the world's top pump manufacturers. Arroyo Process Equipment is renowned in the industry for our application expertise and the unparalleled technical support that is provided by our pump specialists and engineers.
Regenerative Turbine Pump From Arroyo Process Equipment
Our Regenerative Turbine Pump Line at Arroyo Process Equipment is filled with high-quality Corken and Burks pumps. Corken Coro-Flo® regenerative turbine pumps are ideal for lower flow, moderate to high differential pressure continuous duty industrial applications. Coro-Flo® technical data and operating specifications include the following and more:
Suitable for ammonia, propane, gasoline, solvents and other liquefied gases and light liquids
Working pressures up to 400 psi and deferential pressures up to 250 psi
Up to 50 GPM flow rates
Viscosities up to 400 SSU
Direct mount and frame mount models
Free floating impellers
Our Burks pumps selection includes base mounted and close-coupled CR, CS, CS, EC, ED, ES and ET Series turbine models that are designed to handle clean, non-abrasive and non-corrosive liquids. All models feature impellers with sealing rings or annular grooves that correspond with intermesh and raceway grooves to form labyrinth seals. The patented Life-Lok® external adjustments on all Burks models control pressure, which helps to eliminate bearing end play and extend pump life. High performing and versatile Burks pumps are often used for transfer, circulation, metering and pressure maintenance industrial applications.
Creating custom pump package systems is one of the invaluable services we offer to processors with facilities or operations in Florida, Georgia, Puerto Rico, the Dominican Republic and elsewhere in the Caribbean. Our team of chemical and mechanical engineers design and create systems that are complete with one or more pumps, mixers, gearboxes, motors and/or other components. The regenerative turbine pump and/or other equipment in the system is always carefully selected by matching technical data and specifications. Contact us today to learn more about the exceptional products and services available from Arroyo Process Equipment.