Chopper Pumps for Facilities in Puerto Rico & the Caribbean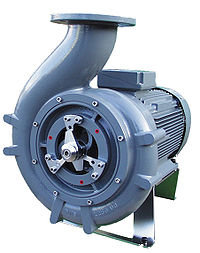 A chopper pump is a centrifugal pump equipped with a cutting system to reduce the size of solids that are present in the liquid being processed. At Arroyo Process Equipment, a chopper pump can be found in our Centrifugal Pump Line at both of our offices. Along with chopper pumps, we also feature positive displacement pumps, AOD pumps and a variety of other processing equipment such as portable mixers, gearboxes, drives and more.
Chopper Pumps From Arroyo Process Equipment
If your facility often processes fluids with solids, a chopper pump may be the best component to add to your line to improve your facility's performance. Chopper pumps typically include the following features:
Dry suction lifts up to 22'
Flows over 13,000 GPM
Hydraulic efficiencies over 70%
Discharge sizes from 3″ to 16″
Heat-treated and hardened components
Direct or belt-drive configurations
Arroyo Process Equipment was founded 50 years ago as a family owned and operated business. Still today, we continue to be a family-owned business and have grown to become one of the top distributers in the fluid processing industry. Fluid processors know our selection of chopper pumps, portable mixers and other equipment cannot be matched, and we pride ourselves in representing equipment from only the top names in the industry such as Viking Pump, Eaton, Burks and other reputable manufacturers.
If you are in need of replacement parts and accessories, our team of expert engineers can help. We match pump technical data to the processing specifications and requirements at your facilities to ensure maximum productivity. Along with technical assistance, we provide turnkey pump package systems. We design these pump packages complete with the chopper pumps, mixers, gearboxes and other components you need based on your requirements. Additionally, we provide repair services to your pumps and equipment. Contact us today for quotes on new pumps, portable mixers and other necessary equipment for your facilities in Florida, Georgia, Puerto Rico, the Dominican Republic and the Caribbean. Our entire team is ready to assist you!