Circumferential Piston Pumps for Florida, Georgia, Puerto Rico, the Dominican Republic & the Caribbean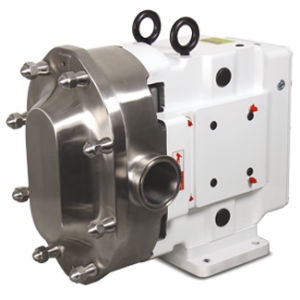 Arroyo Process Equipment is the Authorized Representative and Distributor of the full line of exceptional circumferential piston pumps and sanitary lobe pumps designed and manufactured by Wright Flow Technologies. Arroyo Process Equipment is a fluid handling equipment company founded by Frank Arroyo Sr. back in 1968. Today, we're still a family owned and operated company with three offices that is committed to providing clients around the world with the highest quality products and unrivaled customer service and support. We partner with the world's most respected manufacturers of positive displacement pumps, centrifugal pumps, drives, motors, industrial mixers, and other fluid handling equipment, replacement parts and accessories to meet and exceed the ever-changing needs of industrial fluid processors.
TRA 10 Series Wright Flow circumferential piston pumps are specifically designed for easy, fast strip cleaning and feature pump casings that are fastened independently to gearboxes to prevent damage during fluid chamber cleaning. Hygienic pumps in this series offer features and benefits such as the following and more:
Capacities to 450 USGPM and pressures to 400 PSI
Viscosities to 910,000 SSU and temperatures to 300° F
Stainless steel one-piece shafts
Meet 3A, CE and ISO 9001:2008 standards
Easy to disassemble and reassemble
Service parts interchangeable with other brand name comparable CPP models
TRA 20 Series pumps offer pressures up to 500 PSI and are excellent at handling both high and low viscosity industrial processing applications. Stainless steel standard bearing retainers on these pumps help prevent rust to extend pump life.
Revolution Series Wright Flow pumps are ideal for organizations in Florida, Georgia, Puerto Rico, the Dominican Republic and the Caribbean that require circumferential piston pumps with the same type of CPP properties as featured on sanitary lobe pumps. Revolution pumps are recognized as the most advanced front loading seal circumferential pumps in the industry. For pump literature, technical data, or help selecting pumps and other processing equipment in our lines, contact a pump expert at Arroyo Process Equipment today.