Sanitary Lobe Pumps for Florida, Georgia, Puerto Rico, the Dominican Republic & the Caribbean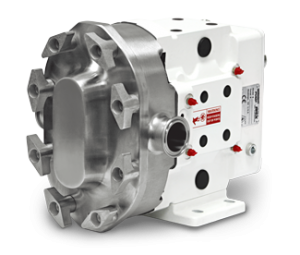 Processors who utilize Wright Flow Technologies sanitary lobe pumps and/or circumferential piston pumps for their fluid processing operations know they can count on Arroyo Process Equipment for the latest and most innovative pump equipment along with genuine replacement parts and accessories. Arroyo Process Equipment is a family owned and operated fluid handling equipment supplier that has been the go-to-source fluid processing professionals have trusted and relied on since 1968. Arroyo Process Equipment is headquartered in Bartow and has offices in Jacksonville and the Dominican Republic. We are always staffed with a team of knowledgeable chemical and mechanical engineers along with other equipment experts who provide unparalleled customer service and technical support.
Sanitary Lobe Pumps From Arroyo Process Equipment
At Arroyo Process Equipment, we carry the full line of sanitary lobe pumps from Wright Flow Technologies in our Positive Displacement Pump Line. SteriLobe, Classic+, Concept SQ and other sanitary lobe pump models from this well-respected manufacturer are ideal for processing the following types of products and more:
Carbonated drinks, fruit juices and other beverages
Milk, yogurt, butter and other dairy products
Cosmetics, toothpaste, shampoo and other personal care items
Baby food, soups, soft vegetables and other foods
Bio-pharmaceutical creams, ointments and injectable medications
Wright Flow TRA 10 Series and TRA 20 Series circumferential piston pumps are also featured in our PD Pump Line. These pumps are interchangeable with comparable Waukesha pump models and are perfect for COP and CIP applications.
Revolution Series Wright Flow pumps are hybrid circumferential piston and lobe pumps that offer exceptional cleanability, enhanced product yield and lower maintenance costs. Our Arroyo Process Equipment pump specialists and application engineers are always available to help processors determine the sanitary lobe pumps and other equipment that are best suited to match the specifications and requirements at their processing facilities throughout Florida, Georgia, Puerto Rico, the Dominican Republic and the Caribbean islands. Replacement part orders placed by in-house service technicians for pump repair and maintenance are always processed and shipped quickly to help reduce downtime. Contact an associate today for more information or to request quotes.