Corken Pumps for Florida, Georgia, Puerto Rico, the Dominican Republic & the Caribbean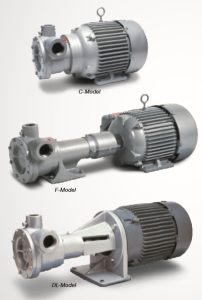 Arroyo Process Equipment is the Corken pumps headquarters. You will easily find what you are looking for from the entire line of Corken pumps, accessories and replacement parts that are available. Arroyo Process Equipment is the fluid handling supplier that's provided exceptional processing equipment and unmatched technical support to energy, transportation and chemical industry processors for over 50 years. Our Arroyo Process Equipment product lines include Positive Displacement and Centrifugal Pumps, Mixing Equipment and Specialty Products such as gearboxes, Y strainers, motors and other components that organizations need to keep their processing operations running smoothly and efficiently.
Sliding vane and turbine Corken pumps specifically designed and manufactured for industrial chemical, oil, gas and other energy fuel processing and transportation applications are featured in our Positive Displacement Line at Arroyo Process Equipment. Coro-Vane® sliding vane Corken pumps for butane, LPG and agricultural ammonia processes include Standard and Z-Model pumps with flow rates from 195 GPM to 385 GPM, viscosities up to 20,000 SSU and temperature ranges from -25° to 225° F. Coro-Flo® Corken Turbine pumps and packages ideal for moderate to high differential pressure and lower flow applications include the following and more:
C and CF Model close-coupled pumps
F, FD, and FF Model frame mounted pumps
DL, DLD and DLF Model direct mount pumps
Frame or direct mount HDP turbine pump packages
Arroyo Process Equipment is the supplier organizations can also rely on and trust to have the best selection of strainers that are often used with Corken pumps at industrial processing facilities in Florida, Georgia, Puerto Rico, the Dominican Republic and other islands throughout the Caribbean. Our Specialty Products Line includes more than 40 poly ribbed Banjo Liquid Handling Products, Y strainers with stainless steel screens and Eaton model 85 compact designed Y strainers with materials of construction options such as Monel screens. Contact an Arroyo Process Equipment specialist today for help selecting the pumps, strainers and/or other equipment in our lines that is best suited for your specific application needs. We look forward to having the opportunity to assist you and your organization with all of your industrial pump and other fluid processing needs.