Deming Split Case Pumps in Florida, Georgia, Puerto Rico, the Dominican Republic & the Caribbean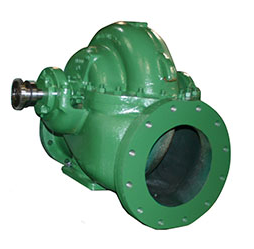 Crane Pumps & Systems is a respected manufacturer that's been providing exceptional solutions to fluid processing professionals for over 60 years. Pump equipment from Crane Pumps & Systems includes Deming, Weinman, Barnes and other brands. Arroyo Process Equipment is a proud Authorized Distributor of Deming split case pumps, Toyo cantilever pumps, Phantom Pumps centrifugal pumps and many other world renowned pumps and accessories.
Deming Split Case Pumps From Arroyo Process Equipment
Processors in the industry have utilized split case pumps to move and transfer fluids for more than 100 years. High-quality, dependable Deming pump equipment is used today for everything from chemical and food processing to pharmaceutical manufacturing, wastewater treatment, flood control, OEM and more. Arroyo Process Equipment is a top rated equipment supplier that represents and distributes the following Deming pumps along with other equipment:
Horizontal Split-Case Pumps
In-Line Centrifugal Pumps
Vertical Process Pumps
End Suction Centrifugal Pumps
Vertical Sump Pumps
Solids Handling Pumps
Deming split case pumps are designed to handle fluids such as chemicals, gas, water, paint, brine and corrosive fluids. Deming Model 5060 Series pumps are available in various sizes and engineered with a back pull-out design, which allows for flexibility in various applications. The pump features heads up to 500', flow capacities up to 7,000 GPM and discharge sizes ranging from 1.5" to 12". The pumps also feature a short, heavy shaft and close bearing centers. These unique features limit shaft deflection and assure longer pump life with little maintenance.
Arroyo Process Equipment represents and distributes hundreds of other centrifugal and positive displacement pumps from Viking Pump, Warren Rupp, Cat Pumps, Phantom Pumps and other leading manufacturers in the industry. In addition, we have the best selection of Deming and Toyo cantilever pumps, mixers, gear boxes, motors, filtration equipment and more. We have everything at our two locations that fluid processors in Florida, Georgia, Puerto Rico, the Dominican Republic and the Caribbean could need to keep their processing facilities and operations running smoothly and efficiently, so contact us today to request more information or quotes on Deming split case pumps or other fluid processing equipment. We look forward to working with you and your organization!