Toyo Cantilever Pumps in Florida, Georgia, Puerto Rico, the Dominican Republic & the Caribbean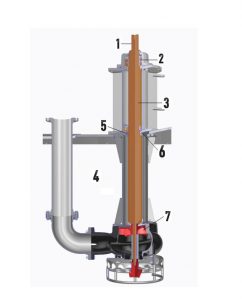 Toyo cantilever pumps are utilized daily in mining, pulp and paper, food and beverage, chemical, agriculture, and other fluid processing industrial applications. Arroyo Process Equipment is an equipment supplier with the best selection of cantilever pumps, Deming split case pumps, mixers, motors and more. We are a family owned and operated company with two Florida locations that processors have relied on for all of their processing equipment needs since 1968. For 50 years, we have kept our commitment to providing our customers with the best fluid handling products and services available in the industry. We continue to form partnerships with leading manufacturers in the industry including Toyo Pumps, Viking Pump, PumpWorks, Sharpe Mixers, Falk, Nord and more.
Toyo Cantilever Pumps From Arroyo Process Equipment
Arroyo Process Equipment represents and distributes the entire Toyo Pumps line of submersible, horizontal and vertical pumps. Toyo Pumps is the leading manufacturer of industrial cantilever pumps. Their DC Series pumps are heavy-duty closed impeller cantilever pumps, while the DEC Series pumps are vertical recessed impeller cantilever pumps that are ideal for handling solids. In addition, DC Series models feature replaceable high chrome top and bottom plates, standard agitators and heavy metal sections for long wear life. DEC Series models offer features and benefits such as the following and more:
Lower energy consumption
Only approximately 15% liquid contact
Capable of running during shut off conditions
Increased efficiency and reduced wear due to patented axial spiral casing
Designed so no bearings, seals or brushes are submerged
Toyo cantilever pumps can be found in our Centrifugal Pump Line at Arroyo Process Equipment. Other centrifugal and positive displacement products in our pump lines include PumpWorks ANSI horizontal, inline and submerged process pumps, Weinman end suction pumps, Deming split case pumps, Viking Pump internal and external rotary gear pumps, Corken vane, side channel and regenerative turbine pumps, and other pumps from top rated manufacturers. We also inventory the replacement parts and accessories from Toyo, Deming, PumpWorks and other equipment manufacturers needed at processing operations in Florida, Georgia, Puerto Rico, the Dominican Republic and throughout the Caribbean. Contact us today for more information or quotes on Toyo cantilever pumps.