Duplex Basket Strainers for Florida, Georgia, Puerto Rico, the Dominican Republic & the Caribbean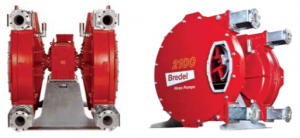 Save your valuable time and stop time searching for duplex basket strainers. The fluid processing equipment specialists at Arroyo Process Equipment are always available to help you determine which strainers in our extensive inventory are best suited to be used in conjunction with the industrial fuel pump and other processing equipment that is currently being utilized at your facility. Arroyo Process Equipment is a leading fluid processing equipment supplier with a renowned team of equipment specialists and application engineers who provide unrivaled service and technical support.
Florida Duplex Basket Strainers From Arroyo Process Equipment
Duplex basket strainers provide 24/7 service on fuel pump equipment lines because they consist of two separate chambers. While one chamber is emptied or cleaned, the other chamber is in action straining the fluids that are being processed. Our strainer selection includes Eaton Model 53 BTX, Model 52, Model 50, Model 570 and more. The Eaton Model 53 BTX strainers often used with fuel pump equipment from Viking Pump and other top pump manufacturers offer features and benefits such as the following and more:
Lever handle is easy to operate
Iron, Bronze, Carbon Steel or Stainless Steel materials of construction
Threaded or flanged connections
Positive sealing with double-stem O-rings
Side drain plug featured in every basket
Special tools not needed for basket access
Bronze or Iron Model 52 10-18" Butterfly Valve strainers are specifically designed for large pipelines and processing applications requiring high flow rates. Models in this line feature mesh or perforated steel baskets, quick opening covers, a threaded drain, positive shut-off and more.
The Arroyo Process Equipment Specialty Products Line includes many other types of filtration equipment including Viking Lid-Ease Strainers, Eaton bag filtration, cartridge filtration, automatic self-cleaning filters, Banjo Liquid Handling Products LSQ, Mini T, T and Y line strainers, and more. Our duplex basket strainers and filters are in use every day at refineries, gas and oil production facilities, and hundreds of other fluid processing operations in Florida, Georgia, Puerto Rico, the Dominican Republic and throughout the rest of the Caribbean. Contact us today for more information or equipment selection assistance.