Eaton Pumps in Georgia, Jamaica, Turks and Caicos, Cayman Islands & Across the Caribbean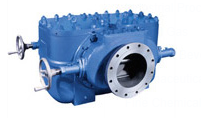 Arroyo Process Equipment proudly distributes the world's best gear pump products from brands such as Eaton pumps, Viking Pumps, Nomad pumps and others. Our Positive Displacement Pump Line features both internal and external gear pumps, which are the most universal types of positive displacement pumps. We have a complete selection of internal and external gear pumps in our PD pump line from world-renowned pump manufacturers.
Gear pump equipment is typically used in applications that pump viscous liquids and has relatively few moving parts. An external gear pump is most often used for high-pressure pumping of medium to low temperature fluids. The Series 26 and L2 Series Eaton pumps are some of the external gear pumps available at our headquarters in Florida. These pumps are often used in the following types of applications and more:
Mining
Agriculture
Construction
Oil and Petroleum
Chemical Processing
The Series 26 Eaton pumps are exceptional pumps that feature quiet operation and improved efficiency, which is a result of an improved bearing lubrication system along with a high polished shaft and gears. Eaton pumps Series 26 models allow for pump direction to be easily reversed during normal operations, and they are available in 15 different configurations including single, double, and triple pump designs and with or without one or more optional components (tandem back plates, common suction ports, flow divider back plates, multiple suction ports and relief valves). In addition, L2 Series pumps feature a die-cast aluminum design and are available in nine optional configurations.
One of the many reason fluid processors in Georgia, Jamaica, Turks and Caicos, Cayman Islands and the Caribbean partner with Arroyo Process Equipment is the service and support from our exceptional team of fluid processing experts. Our chemical and mechanical engineers can match project specifications to the hundreds of Viking, Nomad, Eaton and other pump manufacturers' models that are available in our product lines. You can trust our engineers to make equipment recommendations that will improve your efficiency and likely reduce your operation costs. Contact an associate today for more information on Eaton pumps models from any top-rate pump manufacturers.