Electric Pumps in Florida, Puerto Rico, the Dominican Republic & the Caribbean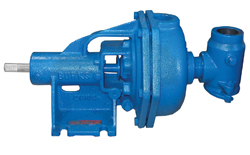 Pumps and process equipment comes in all shapes and sizes. Systems are engineered and built to move a variety of liquids from wastewater and agricultural waste to oil, sugar and citrus products. There are electric pumps and combustion engine powered systems. There are sump pumps and rotary gear pumps. What do they all have in common? They can all be found and serviced by Arroyo Process Equipment.
Electric Pumps From Arroyo Process Equipment
Founded by Frank Arroyo in 1968, Arroyo Process Equipment is Hispanic owned and operated. We offer the highest quality parts and equipment with superior customer service. The products we offer come from some of the most respected brand names in the industry like Warren Rupp, Viking, Periflow and more. We can simply serve as your supplier of pumps, parts and process equipment or we can package a complete system to serve your needs. If you prefer, we offer complete turnkey systems which includes everything you need for your project along with our professional installation services. We can do it all!
Our line of products includes:
Pumps
Mixers
Strainers
Gear Boxes
Motors and drives
Our selection of electric pumps alone is impressive, ranging from small sump pumps to large industrial pumps. Our electric pumps are smooth running, reliable, and serve a variety of applications across a range of industries. Simply put, when you need electric pumps for almost any purpose, contact Arroyo Process Equipment.
Learn why more and more businesses and municipalities in Florida, Puerto Rico, the Dominican Republic and the Caribbean are choosing Arroyo Process Equipment. Contact us to talk about your project or get an online quote. We believe once you see the difference in our quality products, superior knowledge, and world-class customer service, you will turn to us for all of your pump and process equipment needs. Contact us today!