Hydraulic Metering Pump for Florida, Georgia, Puerto Rico, the Dominican Republic & the Caribbean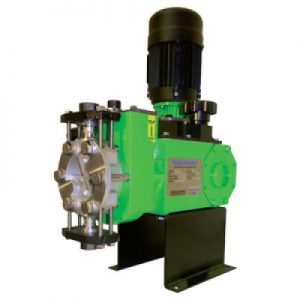 Fluid processing organizations in need of exceptional hydraulic metering pump equipment know they'll always find the best selection at Arroyo Process Equipment. We're a family owned and operated fluid handling company that was founded in 1968 and has equipment lines that contain pumps, mixers, gearboxes, motors and other processing equipment produced by the most respected manufacturers in the industry. Our engineers and equipment specialists at our three offices provide services and technical support that are second to none.
Hydraulic Metering Pump From Arroyo Process Equipment
Hundreds of hydraulic and mechanical metering pumps that are required in industrial applications, such as pharmaceutical manufacturing, wastewater treatment, oil and gas refining, and chemical processing, are available our Positive Displacement Pump Line. Hydraulic metering pump models in the PD Pump Line include DMH Series Grundfos pumps, PULSA Series Pulsafeeder pumps, Watson Marlow Qdos pumps and more. Grundfos DMH hydraulic piston diaphragm metering pumps are ideal for high pressure applications and offer the following features and benefits:
Superior dosing accuracy
Handles flammable liquids
Duplex option available
AMS diaphragm protection system with integrated internal relief valve
Maximum pressure of 2,900 PSI
ATEX certified, EX classified motor and API 675 certification models available
And many more!
The Pulsafeeder PULSA Series Line features six hydraulically actuated metering pumps. PULSA pumps are renowned in the industry as economical and reliable pumps that provide years of service. Diaphragm designs on PULSA models include Flat Diaphragm, HYDRAcone or HYDRAtube. All pumps feature the PULSAlarm Leak Detection and a three component Check Valve to prevent system damage.
The Pulsafeeder PULSAR Series Pump Line available in the Arroyo Process Equipment PD Pump Line includes hydraulic metering pump PULSAR 55H Series models as well as PULSAR 25H and PULSAR Shadow Series mechanical metering pumps. Literature and technical data is available upon request on all of the pumps and processing equipment we distribute. Arroyo Process Equipment pump experts are always on hand to answer questions and make recommendations on the pump equipment that is best suited for the specific applications and requirements of organizations throughout Florida, Georgia, Puerto Rico, the Dominican Republic and the Caribbean. Contact one of our knowledgeable and courteous associates today for more information.