Mechanical Metering Pumps for Florida, Georgia, Puerto Rico, the Dominican Republic & the Caribbean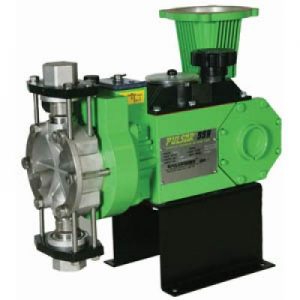 Arroyo Process Equipment is the one-stop shop for Pulsafeeder PULSAR Series mechanical metering pumps. As a Factory Authorized Pulsafeeder Distributor, we carry the full line of Pulsafeeder pumps, controllers, systems, replacement parts and accessories that are used for wastewater treatment, oil and gas extracting and refining, chemical processing, and other processing applications. Our family owned and operated business, which was founded back in 1968, has an exceptional team of application engineers and processing equipment specialists at our Bartow, Jacksonville and Dominican Republic offices that is committed to providing unmatched service and support to processors in US and Caribbean processing organizations.
Mechanical Metering Pumps From Arroyo Process Equipment
The PULSAR Series 55H, 25H and Shadow hydraulic metering pump models from Pulsafeeder that are available in our Arroyo Process Equipment Positive Displacement Pump Line offer benefits and features such as the following and more:
Extreme durability delivers superior performance and long-term value
Competitive pump and replacement parts pricing
On-board diagnostics
PULSAlarm leak detection to prevent system damage and related costs
Choice of DLC, DLCM, ECA or MPC controllers
Designed specifically for hard to handle fluids
PULSAR 55H Series hydraulic metering pump models are designed with PULSAR HYPOPump configurations and patented hydraulic diagnostic windows and include models with flows up to 120 GPH, pressures up to 4,000 PSI and temperatures up to 230° F. PULSA 25H Series pumps are the mechanical metering pumps engineered for applications that require precise dosing. PULSAR Shadow models feature mechanically actuated diaphragms and a four bolt tie bar design. These models are most often used for water and wastewater industrial applications because they are simple to operate and contain easily maintained metering pumps.
Hydraulically actuated Pulsafeeder PULSA Series metering pumps with duplex configurations and top flows from 39 GPH to 2,292 GPH include models that feature Flat Diaphragm, HYDRAtube and HYDRAcone diaphragm designs with Mechanical Lost Motion or Full Motion style drive mechanisms. Pulsafeeder replacement diaphragms and other parts are available from our parts departments at Arroyo Process Equipment. Contact one of our pump experts today to request quotes on mechanical metering pumps for your processing facilities in Florida, Georgia, Puerto Rico, the Dominican Republic and/or the Caribbean.