Pneumatic Pumps in Florida, Georgia, Puerto Rico, the Dominican Republic & the Caribbean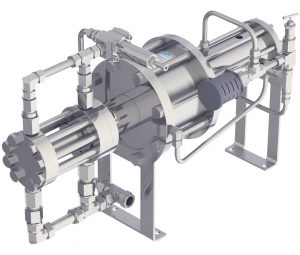 Arroyo Process Equipment is an international distributor of pump equipment from world renowned manufacturers such as Viking Pump, Gorman-Rupp, Corken, Crown, Grundfos and many others. In our various product lines, we inventory pneumatic pumps, vertical sump pumps, chemical process pumps, regenerative turbine pumps, mag drive pumps, piston pumps and more. A pneumatic pump is a vital addition to many fluid processing operations and can be found in our Positive Displacement Pump Line.
What is a pneumatic pump?
A pneumatic pump is a double-acting positive displacement pump that uses compressed air to create force. The force is used to move fluids through a piping system in a way that is similar to that of hydraulic pumps. Pneumatic pumps use air the same way that hydraulic pumps use fluids.
How do they work?
These pumps use a double piston system that contains a small piston and a substantially larger second piston. An airtight chamber is filled with liquid or another compressed gas between the two pistons. The compressed gas from the outside of the chambers pushes on the larger-diameter piston. This pressure moves the gas or liquid to the intermediate chamber to make contact with the small piston. The smaller piston translates the force received from the push into a powerful mechanical action.
What are the advantages of this pump?
Pneumatic pumps are used in several types of applications, and, when used, these pumps are appreciated for the simplicity of their relatively high safety ratings, compact design and low maintenance.
A pneumatic pump can be used in combination with sump pumps and a variety of positive displacement pumps. Our exceptional team of mechanical and electrical engineers can build a turnkey custom pump package system at either of our Florida locations based on your processing facility's operation specifications. The turnkey system can be skid mounted for easy installation, or the parts can be shipped separately.
If your company or organization is in need of pneumatic pumps, vertical sump pumps, slurry pumps or other pump-related equipment for your facilities in Florida, Georgia, Puerto Rico, the Dominican Republic and across the Caribbean, contact an Arroyo Process Equipment associate today.