Pulsation Dampeners for Those in Jamaica, Tobago, Trinidad, Turks and Caicos & Surrounding Islands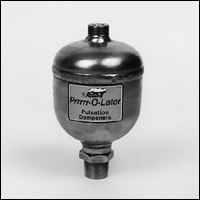 Pulsafeeder metering pumps, Cat Pumps plunger pumps, Sandpiper air operated diaphragm pumps, and/or other brand name centrifugal and positive displacement pumps often require pulsation dampeners to minimize damaging vibration during fluid processing operations. Arroyo Process Equipment is the fluid handling equipment supplier with the best selection of seal & mag drive gear pumps, pulsation dampeners, and other pump related equipment and accessories. Headquarter in Bartow, Florida, we're a family owned and operated company that is proudly recognized as an industry leader for the unequaled service and support along with high-quality products. Our team has continuously provided superior service and support to fluid processing organizations in the US and Caribbean since 1968, and we look forward to assisting your organization or facility.
The products featured in our Specialty Products Line at Arroyo Process Equipment include pulsation dampeners, drives, motors, gearboxes, filtration equipment and more. Pulsation dampeners in our line include the following:
Cat Pumps 316 SS and Carbon Steel dampeners
Blagdon self-charging dampeners
Sandpiper TA and DA Series surge/pulsation dampeners
Blacoh wetted and non-wetted dampeners
Pulsafeeder dampeners with poly, PVC, PVDF or 316 SS bodies
and More!
Pulsation Dampeners in Jamaica From Arroyo Process Equipment
The Cat Pumps and Blagdon dampener lines feature various materials of construction and offer high-quality models in a variety of sizes. Sandpiper TA Series dampeners automatically self-charge and self-vent to provide steady pressures during fluid processing. These dampeners feature diameters from 9" to 16.1875". Materials of construction for the Sandpiper TA Series dampeners' diaphragm include neoprene, Nitrile, FKM, EDPM, Neoprene PTFE Overlay and Santoprene. Finally, Blacoh Sentry dampeners are designed to performance of positive displacement pumps and enhance reliability since they hydraulic shock, which often causes damage to pipes, fittings and valves, while Pulsafeeder dampeners are available in 150 PSI chargeable models.
When processors need to find the pulsation dampeners in our line that are designed for use with their existing seal & mag drive gear pumps and other pump equipment, they can trust and rely on our processing equipment experts to help. Orders are always processed and shipped quickly from our three Arroyo Process Equipment parts departments in Bartow, Jacksonville and Miami to processing operations in Jamaica, Tobago, Trinidad, Turks and Caicos and the surrounding islands. Contact us today for equipment and parts quotes or to place orders. We look forward to serving you and your processing facility.