Seal & Mag Drive Gear Pumps for Florida, Georgia & the Caribbean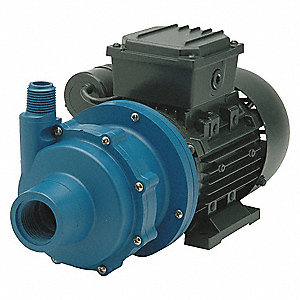 Proudly distributed by the processing equipment specialists at our Arroyo Process Equipment offices, Pulsafeeder ECO and Isochem seal & mag drive gear pumps are engineered to provide years of uninterrupted service. Arroyo Process Equipment is a family owned and operated fluid handling equipment company that's grown into the leading equipment supplier throughout the Caribbean and southeastern United States. Since we were founded by Frank Arroyo Sr. in 1968, we have continued to partner with the biggest names in the industry to provide clients with the highest quality pulsation dampeners, pumps, motors, drives, gearboxes, mixers and specialty processing equipment.
Seal & Mag Drive Gear Pumps in Florida From Arroyo
Pulsafeeder pumps in our Positive Displacement and Centrifugal Pump Lines include everything from mechanical seal & mag pumps to single and multi-stage centrifugal pumps and more. The Pulsafeeder seal & mag drive gear pumps in our line offer exceptional resistance to fertilizers, dyes, catalysts, biocides, hydrochloric acid and many other caustic and abrasive fluids.
Our ECO Gearchem mechanical seal pump models are ideal for continuous duty oil and gas extracting and refining, chemical processing and transfer processes, wastewater treatment, and other 24/7 processing applications. Advantages and benefits of ECO pumps include the following and more:
External mechanical seals for vacuum or pressure services
Internal single or double mechanical seals available
Various materials of construction on casings, gears, bearings and other components
Handle non-lubricating and lubricating fluids from 0.08 cPs to 1,000,000 cPs
Easily replaceable wear plates prevent gear contact with housings
Self-priming bi-direction pumps
Arroyo Process Equipment proudly stocks multiple Pulsafeeder Isochem seal & mag drive gear pumps at our three Florida locations. The self-priming Isochem models feature a closed-couple design and Magnetic Drive Technology, and the materials of construction include 316SS, Alloy 20 or Alloy C housings. This technology eliminates leakage and reduces both maintenance expenses and downtime at processing operations throughout Florida, Georgia and the Caribbean. For more information on our selection of mechanical seal & mag pumps or pulsation dampeners from Pulsafeeder, Liquiflo Equipment Company, Viking Pump and other well-respected manufacturers, contact one of our Arroyo Process Equipment pump experts today.